ręczne robienie noży, wraz z szyciem pochew skórzanych i formowaniem kydexów
Najpierw się przedstawimy 🙂
Cześć, mam na imię Kuba jestem rękodzielnikiem i prezesem firmy w jednym 🙂 Moja żona Magda, jako druga połowa, to również dwa w jednym, czyli marketing i księgowość.
A teraz trochę historii. Narzędzia tnące były moją pasją od dzieciństwa. W 2013 roku chciałem kupić pierwszy naprawdę porządny nóż, lecz nie było mnie na niego stać. Postanowiłem, że wykonam go sam. Tak zaczęła się moja największa życiowa pasja, a zarazem przygoda.
Początkowo warsztat był wyposażony w pilnik, wiertarkę i szlifierkę kątową. Z upływem czasu rozwijał się, aż stworzyłem profesjonalną pracownię i zacząłem nosić brodę.
2015
2019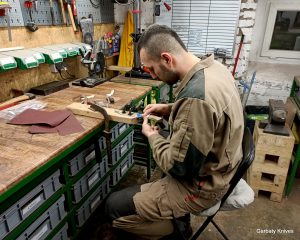 Noże wykonuję ze stali wysokowęglowych, które cenię za wytrzymałość i długie trzymanie ostrości. Niektórych może przestraszyć, że takie stale są podatne na korozję, lecz bardzo łatwo i szybko można nauczyć się, jak o nie dbać.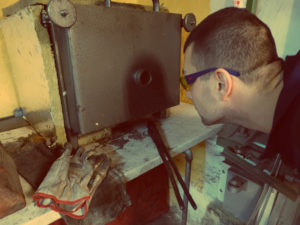 Dbam o detale jak np. profilowane rękojeści, które maksymalizują ergonomię. Przekłada się to na mniejsze zmęczenie użytkownika i większą funkcjonalność narzędzia.
Wiedza, doświadczenie, profesjonalizm, a przede wszystkim włożone serce, sprawiają iż po setkach godzin spędzonych nad ulepszaniem naszych modeli, dostajecie produkt w pełni dopracowany, który spełni oczekiwania nawet najbardziej wymagających użytkowników.